Couples Therapy is my speciality
Resentments build up, feelings get hurt and communication goes off track. Sadly, time doesn't heal bad patterns.
Perhaps you want to change your partner, yourself or the whole trajectory of your love life? If you need some Counseling to get close again contact me.
As your Therapist I'll help you define and break painful relationship patterns. I'll help you get unstuck, develop new skills and improve your relationship.
Frankly speaking all relationships develop patterns
Without patterns we would have uncertainty and chaos. The problem happens when you get stuck in an unhealthy pattern. It's like a frustrating walk through quicksand. I can help you break the deadlock and establish happier, healthier patterns with the one you love.
If your love has gotten into bad patterns I will help you change that
I can help you understand why things are off track and how to change it. I will also help you create a path to avoid the same kind of pitfalls in the future.
Let's find solutions for your relationship.
I look forward to hearing from you.
The quickest way to reach me is via email.
Warm regards,
Laressa Desmond PhD
CPC CA LMFT

Break Painful Relationship Patterns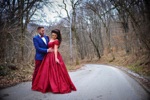 Exclusive discount for video sessions